Cautand diverse chilipiruri pe OLX, intr-o zi am dat de niste anunturi cu ceva echipamente WiFi de la Aruba (HP), toate erau de la acelasi vanzator.  Evident ca preturile erau sensibil sub pretul "de nou", si mi-am zis ca nu ar strica sa experimentez cu asa ceva, macar de dragul "experimentului" sa vedem cu ce se diferentiaza un Acces Point de 1000 de euro comparativ cu unul de 150 de euro sau cu unul de 30 de euro.
Mi-a luat ceva timp sa-i dau de cap cum sa-l resetez si sa-l reconfigurez. Ba chiar am configurat si pe interfata UBS (via Serial COM Port) , ptr ca am uitat sa-i pun IP static si am preferat sa nu-l mai resetez, a fost mai facil prin comenzi/CLI. (Command Line Interface)
Am creat/configurat trei AP-uri, cu SSID diferite, unul ptr 2,4GHz, unul ptr 5Ghz si unul pe "auto" avand ambele frecvente disponibile sub acelasi SSID.
Iata mai jos si rezultatele testului in 5Ghz, cam asa arata un #WiFi adevarat … Aruba 365 RW , cat scrie atat duce: 867 Mbps in the 5-GHz band + 400 Mbps in the 2.4-GHz band.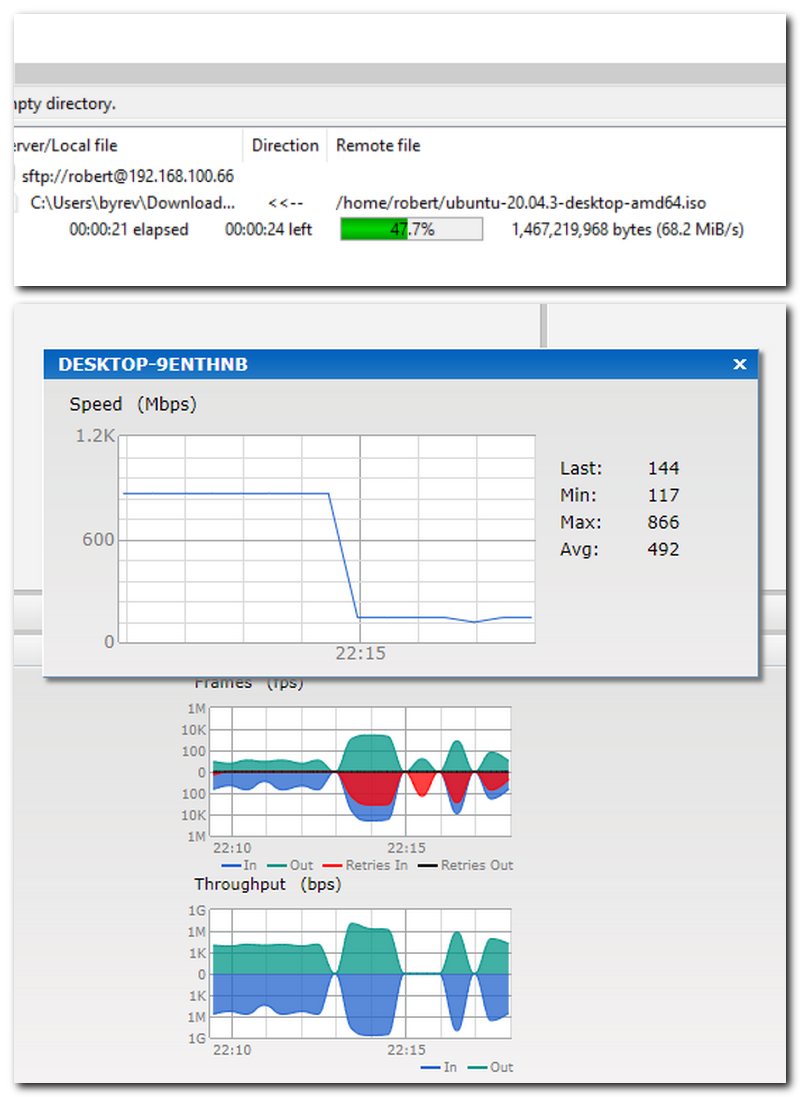 Viteza de transfer reala a fost ~ 572 Mbps, care reprezinta aproximativ 66% din viteza de "marketing". La toate echipamentele Wifi, o parte din trafic se "pierde" prin protocolul de comunicare!
Testul in 2.4Ghz a fost ceva mai mic decat in specificatii, am prins maxim 150Mbps, rezonabil ptr 2.4Ghz avand in vedere ca spectrul este mult mai poluat. Combinat, cele doua frecvente pot sustine o viteza reala de 700-800Mbps impartita la un numar impresionant de echipamente, prea bine as zice eu si cu mult mai bine decat orice echipamente WiFi testate personal.
P.S. Recent am testat si un upgrade la Wave2 pentru  MikroTik hAP ac3, si pot spune ca este un upgrade absolut necesar daca vreti sa cresteti performantele in WiFi5 fara sa cumparati alte echipamente: vitezele maxime din teste au fost de 450Mbps (5Ghz)  si 140Mbps (2.5Ghz) !